My favorite Smurf are Smurf with Glasses or Brainy Smurf,

very close to Papa Smurf and f

requently in the cartoon, after his blathering or posturing have gone too far, he is thrown a long distance (typically by Hefty Smurf) and always lands square on his head, usually outside of the village.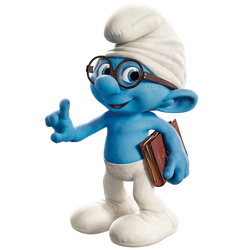 Brainy Smurf would help lead the others and find their way from New York City back to the Smurf Village because
His heart is always in the right spot.
Despite been so arrogant and self-centered, Brainy always wants and seek to be respected by the other Smurfs. He would go so far as to use magic to make himself strong to take back their food from Bigmouth, and also risking his life to save a wildcat to prove that he lives up to his word, only to lose conscience after that.
FootNote ~ So what is your
favorite Smurf? i love to watch the cartoon at tv3 this morning and now it will come in movie. can't wait to see it.